Four-Stroke Internal Combustion Engine Crankshaft Fundamentals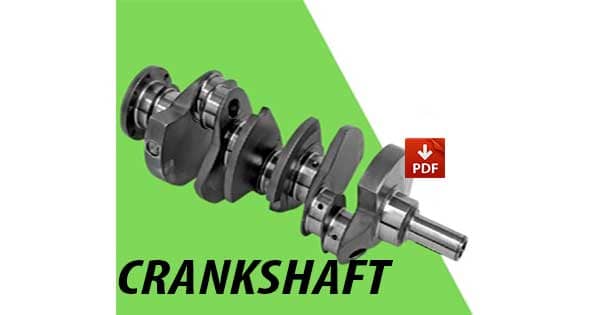 Preface of Four-Stroke Internal Combustion Engine Crankshaft Fundamentals
This thesis covers general topics concerning the forces, oscillations, manufacturing processes, and design trends of a four stroke internal combustion engine crankshaft and the prior knowledge required to obtain a precise understanding of the crankshaft working conditions and the parameters that affect said conditions. Prior to defining the different forces acting on a crankshaft, basic piston dynamics are explained to establish relations between piston movement and crankshaft rotation since piston and connecting rod masses are a large source of force on the crankshaft.
Geometric relations are used to derive kinematic equations that describe piston motion. By considering an ideal Otto cycle and the piston motion equations, a relation between cylinder gas pressure and crankshaft rotation is obtained. These equations are then used to derive the inertial and gas forces acting on the crankshaft. These equations are then used to create a software tool via MATLAB that allows users to input certain engine characteristics and obtain several graphs illustrating torques, piston motion, and gas pressure.
The user can change independent parameters to observe how these affect different graphs. Manufacturing processes and their advantages and disadvantages are covered, alongside the different materials, their characteristics, and applications. Finally, the iterative crankshaft design process and key design focus points and their corresponding limitations are covered.
Download Four-Stroke Internal Combustion Engine Crankshaft Fundamentals in free pdf format.