Theory of Computer Science (Automata, Languages and Computation) Third Edition PDF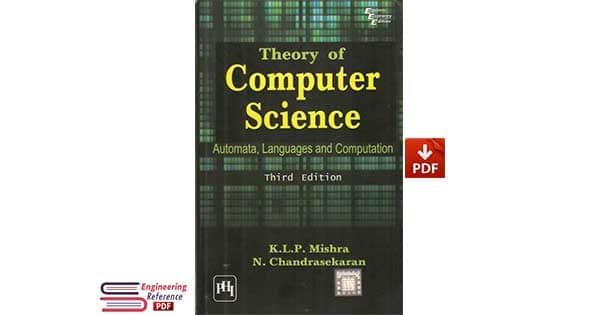 Preface of Theory of Computer Science (Automata, Languages and Computation) 3rd Edition by K.L.P. Mishra, N. Chandrasekaran pdf
The enlarged third edition of Thea/}' of Computer Science is the result of the enthusiastic reception given to earlier editions of this book and the feedback received from the students and teachers who used the second edition for several years, The new edition deals with all aspects of theoretical computer science, namely automata, formal languages, computability and complexity, Very few books combine all these theories and give/adequate examples.
This book provides numerous examples that illustrate the basic concepts. It is profusely illustrated with diagrams. While dealing with theorems and algorithms, the emphasis is on constructions. Each construction is immediately followed by an example and only then the formal proof is given so that the student can master the technique involved in the construction before taking up the formal proof.
The key feature of the book that sets it apart from other books is the provision of detailed solutions (at the end of the book) to chapter-end exercises. The chapter on Propositions and Predicates (Chapter 10 of the second edition) is now the first chapter in the new edition. The changes in other chapters have been made without affecting the structure of the second edition.
The chapter on Turing machines (Chapter 7 of the second edition) has undergone major changes. A novel feature of the third edition is the addition of objective type questions in each chapter under the heading Self-Test. This provides an opportunity to the student to test whether he has fully grasped the fundamental concepts. Besides, a total number of 83 additional solved examples have been added as Supplementary Examples which enhance the variety of problems dealt with in the book.
Download Preface of Theory of Computer Science (Automata, Languages and Computation) 3rd Edition by K.L.P. Mishra, N. Chandrasekaran in free pdf format.