Blender 3D Incredible Machines Design, model, and texture complex mechanical objects in Blender PDF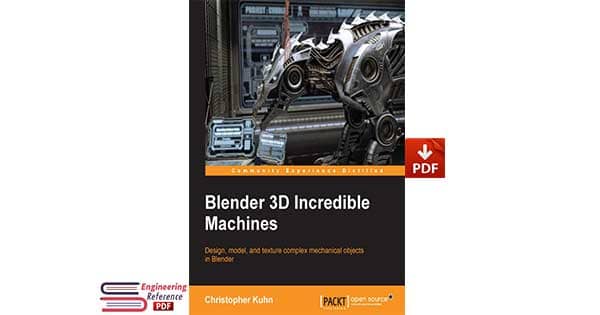 Preface of Blender 3D Incredible Machines Design, model, and texture complex mechanical objects in Blender by Christopher Kuhn
What this book covers
Chapter 1, Sci-Fi Pistol – Creating the Basic Shapes, covers the basic modeling tools as we start our first project. It should be a good refresher for more experienced users, and will set the groundwork for more advanced modeling projects.
Chapter 2, Sci-Fi Pistol – Adding Details, looks at specific modeling techniques for adding detail to hard surface models. These techniques will be used to finish building our gun model, but will be applicable to many other projects as well.
Chapter 3, Texturing and Rendering Your Sci-Fi Pistol, takes a look at the Cycles rendering engine and how to create basic materials for it. We'll also set up a basic render scene that we can use in the future.
Chapter 4, Spacecraft – Creating the Basic Shapes, begins a more complex modeling project—a Sci-Fi spacecraft. We'll focus more on general technique and workflow here, since we covered a lot of the basic tools already in the first two chapters.
Chapter 5, Spacecraft – Adding Details, focuses heavily on detail-oriented modeling techniques. We'll look at important considerations when adding detail to a model as well as a number of tools and procedures for doing so.
Chapter 6, Spacecraft – Materials, Textures, and Rendering, builds on the techniques from our last project. We'll create a number of different materials for our spacecraft. We'll also briefly cover UV mapping and managing materials slots.
Blender 3D Incredible Machines Design, model, and texture complex mechanical objects in Blender PDF Download

Chapter 7, Modeling Your Freestyle Robot, looks at modeling for a specific type of rendering—FreeStyle. There are a number of special modeling techniques we'll want to use to get the best possible results.
Chapter 8, Robot – Freestyle Rendering, looks at the specifics of FreeStyle rendering. We'll also cover the creation on non-photorealistic (NPR) rendering in the Blender Internal render engine.
Chapter 9, Low-Poly Racer – Building the Mesh, takes a look at one of the more common uses of Blender—building game models. We'll explore how these models are different from the ones we've already done and what specific techniques we should use (and avoid) when we do it.
Chapter 10, Low-Poly Racer – Materials and Textures, covers the creation of materials and textures for our low-poly game model. We'll cover UV maps more extensively, and see how we can use them to create a more universal form of textures. This will allow our game assets to be used in a variety of external applications.
Download Blender 3D Incredible Machines Design, model, and texture complex mechanical objects in Blender by Christopher Kuhn in free pdf format.